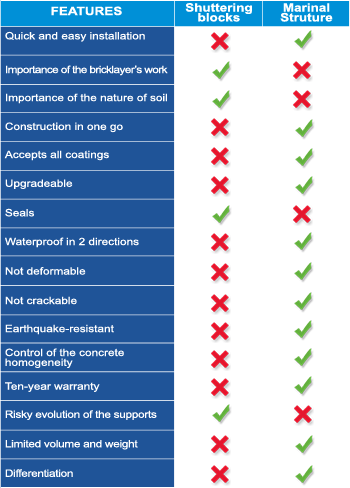 Be careful : not to mix up the construction of shuttered concrete swimming pools with the construction with shuttering blocks or breeze blocks. The techniques are very different and lead to pools of different qualities.
MARINAL builds its shuttered reinforced concrete swimming pools with an integrated galvanized steel structural formwork. This gives you all the guarantees of a not-deformable, not-crackable and watertight structure.
Risks related to breeze blocks and blocks
Deformation of the structure due to the thrust of the water volume of the pool, or due to the soil.
Cracks and water ingress. The breeze blocks and the shuttering blocks are not waterproof guaranteed.
Growth of bacteria and mould between the breeze blocks and the liner.
Crumbling of the breeze blocks after removing the liner.
Unreliability over time.
Advantages of shuttered concrete
It adapts to any grounds. Shoring walls on uneven grounds. Seismic areas.
Welded wire mesh structure; anti-cracking guaranteed.
Homogeneous pouring of concrete.
One-piece construction watertight guaranteed, even without a liner.
Strength and durability.
Risks related to breeze blocks and blocks
MARINAL traditional swimming pool
Not-deformable – not-crackable
Earthquake-resistant
Watertight by itself
Self-supporting
Compatible with any coatings
Customizable
Patented construction method